B2B Freelance Writer for SaaS and Marketing Brands
As a SaaS content writer, I work with martech and B2B SaaS brands to produce helpful, reader-centric content for their audience
Increase your brand's visibility, authority, and revenue with helpful, engaging long-form content
My friend recommended that I take a business diploma he got. For weeks, I pondered the idea and became almost convinced that I should sign up. But then I visited the diploma provider's website: their website content was terrible. 
Long story short, I ended up not applying. And my decision was heavily influenced by how poor the website content was. It made the company look untrustworthy. 
Who knows how many good leads such companies lose every month because of poor or mediocre content?
Data curated by Semrush showed that %23.84 of readers say bad content quality destroys a blog's credibility. That's what weak content does. It yields low ROI and eats into your marketing budget.
What ranks fast, engages readers, and converts qualified leads, especially in SaaS niches, is helpful, engaging long-form content. It provides value, builds trust, and demonstrates authority. 
That's the key difference between struggling SaaS companies who crank out low-quality content and leading SaaS brands such as HubSpot who prioritize top-quality blog content and helping their target audience.
I've applied this reader-centric approach to my content writing and got:
Featured in Better Marketing, Thrive Global, and some of the top digital publications on the web.

Ranked #1 and #6 on Google for client-designated keywords.

Rewarded by Medium for being among their top writers (from a pool of 100,000+ active writers).
One article I wrote was so helpful that it went semi-viral and compelled some readers to take notes or bookmark and save it for further reference.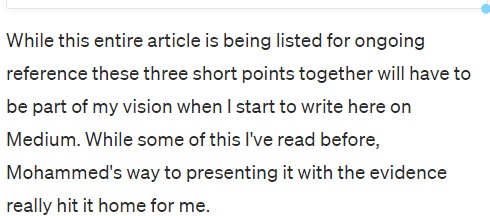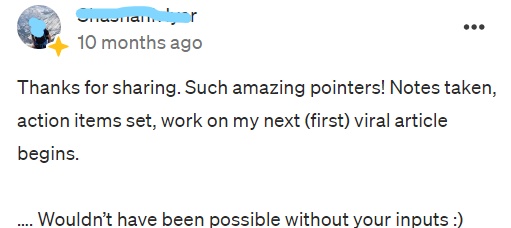 But there's a catch: It takes a lot to create such helpful content, and most writers aren't willing to put in the required effort and time. You probably have enough on your plate too, and can't dedicate tens of hours per week or month to create such content.
Personally, it usually takes me 40 to 48 hours–often more–to produce a single helpful, search-friendly long-form article. Of course, this hurts my revenue because I don't charge hourly. But I'm willing to accept this sacrifice in my pursuit of educating and benefiting the reader as much as I can.
"The pursuit of excellence is less profitable than the pursuit of bigness, but it can be more satisfying."
–David Ogilvy, Confessions of an Advertising Man
Want to get a taste of my helpful, engaging content? Check my portfolio: